Genre: Young Adult Fantasy
Rating: 4/5
This is the third installment in Rick Riordan's Magnus Chase series following The Sword of Summer and The Hammer of Thor. Once again, Riordan does a splendid job of integrating diverse characters and comedy to bring Magnus's adventure to life.
Now that Loki is free, Magnus and his friends, both dead and living, must stop the Ship of the Dead from sailing, or Ragnarok will soon follow. To prevent Loki from releasing the ship from it's icy hold on the one day of the year that it is warm enough for the ice to melt, Magnus is gifted a big, yellow viking ship from his father, Frey. With this ship, which can conveniently transform into a spiffy yellow bandanna when not in use, takes Magnus and his companions across the borders or the nine worlds to stop Loki. Let's not forget, the boat has been named thus: The Big Banana.
Along the way, Magnus, Samirah, Hearthstone, Blitzen, Alex, Halfborn, Mallory, and T.J. all face a number of trials that effect reaching their goals to prevent Ragnarock, as well as effecting many of them on some personal level. During the entire journey, Samirah is participating in Ramadan, a pert of her culture that forces her to fast, to not eat, until after sunset. Even though she does not eat or drink during the day, she powers through the quest with her friends with a headstrong attitude. The crew is taken by the sea god's nine daughters and are aiming to find a special mead so that Magnus can defeat Loki in a flyting to capture him. Magnus, T.J., and Alex find themselves having to face a stone giant-T.J. fighting the giant while Alex makes a stone warrior to fight one made by the giant. Hearth and Blitz assist Magnus in defeating Hearth's father, who has now turned into a hideous dragon because of his greed and the magical ring that he chose to wear, Halfborn and Mallory have broken up, and the tension between the two is high. Mallory finds out who her mother is. More giants….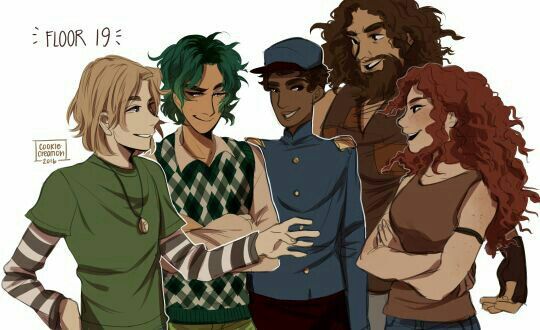 Throughout, Magnus learns more and more about his friends, but especially about Alex as they both go on the most adventures together. Magnus feels at ease with Alex at his side (whether Alex is male or female doe not matter to him) as they search for a clue in his uncle's mansion, create a ceramic soldier together, suffer the freezing cold to near-death, and bring Loki down together. Their relationship is one of the most interesting aspects of the novel, and the two trying to figure out how they feel about each other is one of the driving aspects that has me itching for the next novel.
One of the things I continue to praise about Riordan is his incorporation of multiple types of diversity into his novels, and Magnus Chase by far has the best types of diversity to expose young readers to including racial/religious diversity (Samira is Middle Eastern), gender diversity (Alex is gender fluid), and disability diversity (Hearth is deaf). These are all excellent characters that show not everyone needs to be perfect, that everyone should be who they are and who they want to be. The Norse gods are ever interesting in how Riordan incorporates the lore, and the next adventures should be exciting for Magnus (and us readers, of course), so if you have not picked this series up, I would say yes, you should read it. The humor is a nice tough to the reading; you know it is a good book if it can coax an actual, audible laugh out of the reader!
Some fun things:
The Costco edition comes with a neat little poster: 
The Barnes and Noble edition comes with a Norse insult generator:
The Walmart edition comes with a neat bookmark (Hearthstone?):
The Target edition comes with a make your own viking longship pull-out craft: