Pride and Prejudice and Zombies by Jane Austen and Seth Grahame-Smith
Genre: Literary Parody
Rating: 2/5
Jane Austen is one of my favorite writers from the early 1800's. Her work is kind of dry and hard to get through if you aren't used to the vocabulary and the importance of the history in her novels, but they are all about status and marrying well, because that is all a girl can really do to succeed at that point in history.
Pride and Prejudice is definitely her best novel (and Mansfield Park is tied with it), so I was very excited for the version with zombies. Unfortunately, this parody was vastly disappointing. Basically, the writer copy-pasted the novel and reworked/added some stuff with zombies. It was meant to be funny, but it actually made the novel more dry than its original counterpart. Adding the zombie bits felt too out-of-place while keeping up the idea that marriage is still one of the most important things, even in the apocalypse. The novel did not blend the zombies well to give it a flowing feel, and it was rough to finish.
I know this is not said often, but you should NOT read this book. If you have never read Pride and Prejudice and think the zombie version will be more flavorful (which, it kind of is in the literal sense that Elizabeth eats a ninja's heart), it is not. Just read the original as it was intended to be.
Trafficked by Kim Purcell
Genre: Young Adult Fiction
Rating: 4/5
This book seemed a bit slow in the first couple of chapters, but it really picked up when Hannah, a girl from Moldova, is offered a job in the United States as a nanny, but she has to use a fake name and is given fake documents to get through the airport. $400 a week to take care of two children and clean a house, and she could take English classes at night, when the work was all done. Little did she know that her days would be 16 hours of work, and things really get suspicious when Hannah isn't allowed out of the house and she doesn't get paid.
This book is a very interesting perspective on what it could be like for many people who are smuggled into the country, basically for slavery, and it is appalling that we still have this issue in the United States. This was a fantastic, eye-opening book that I would highly recommend to any interested party.
Bleed by Laurie Faria Stolarz
Genre: Young Adult Fiction
Rating: 3/5
This is definitely an interesting book. It features a number of characters, each chapter giving a new perspective character.
Nicole likes Sean, who Kelly, Nicole's best friend, ends up dating because Nicole is too shy to ask. But Kelly is secretly writing to Robby, a boy in jail who killed his girlfriend. They finally get to meet up upon his release only to have Kelly run off, leaving Robby with the waitress, Joy. Joy hates boys and gets revenge on Robby and another boy from high school. Joy calls Kelly's house because Kelly left her cell at the diner, only to have Ginger, a girl seeking revenge on the Bitch Kelly, answer the phone because she was there babysitting. Ginger extracts this dirt on Kelly to Sean. An then there's randomly Derik who likes Mearl, but all Mearl wants to do with her power of seeing auras is save a life, and she saves Nicole's friend, Maria.
Lots of characters and lots of things going on. It was an interesting set-up. and for the amount of time the reader gets with each character's point of view, I would say the character development is decent, but I would NOT recommend this book. Stolarz is a great author, but I would recommend her Touch series over Bleed, because Bleed has so many interesting characters but feels inconclusive. While many of the characters get the revenge, love, or redemption they seek, the story overall seems like it could have had more than 125 pages to make a really good full circle, rather than adding in a few characters who don't add much to the story.
Gaba Kawa by Rie Takada
Genre: Young Adult Romance Manga
Rating: 3.5/5
Rie Takada is known for shorter shoujo series such as Punch! and Happy Hustle High. Gaba Kawa is a stand alone volume about Rara, a demon sent to cause mischief on Earth. When Rara falls in love with a human and starts helping people with her powers, she begins to lose those demon powers. Falling in love with a human also means that she will disappear, unless she kills the human who stole her heart!
This one-off is cute and fun and worth more than one read through. While being mildly charming, this manga isn't quite as good as Takada's other books and the art and characters in Gaba Kawa are very similar in style to those in her other volumes, which makes the book feel not-so-fresh. Despite this mishap, it is still a fun read and Takada's works are all worth at least reading through once! And it's a one-off manga, it will only take about 45 minutes of your time if you need something nice and quick to read.
The Poison Apples by Lily Archer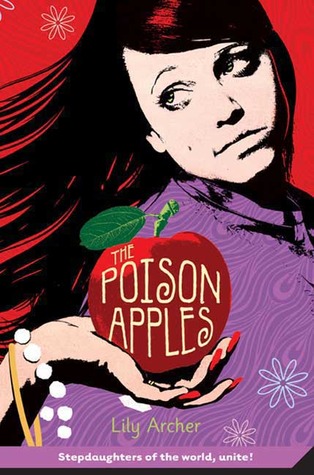 Genre: Young Adult Fiction
Rating: 3/5
This book is geared towards female teens. It features Alice, Reena, and Molly, three girls who all end up at the same boarding school because of their evil stepmothers. Alice's mother died and her father remarried a stuck-up actress, Reena's father got bored with her mother and began dating a white yoga instructor who thinks she is Indian and is more than twenty-five years younger than the father, and Molly's mother is in a psychiatric hospital with a new step mother trying to dominate her life. When these three girls meet, they make a club called The Poison Apples, a club set on getting revenge against their evil stepmothers.
This book was a fairly enjoyable read, but I would NOT recommend it to everyone. One of the problems I had with it was the number of grammatical and spelling errors, as if the book weren't edited (but it was because it is the legitimate published version, not uncorrected proofs) so that was very distracting.The only people I would even consider recommending this book to would be young adults who have stepparents they don't really like, because-despite the plots of revenge-it is rather enlightening to people in that situation. Otherwise, this book isn't really worth the read.