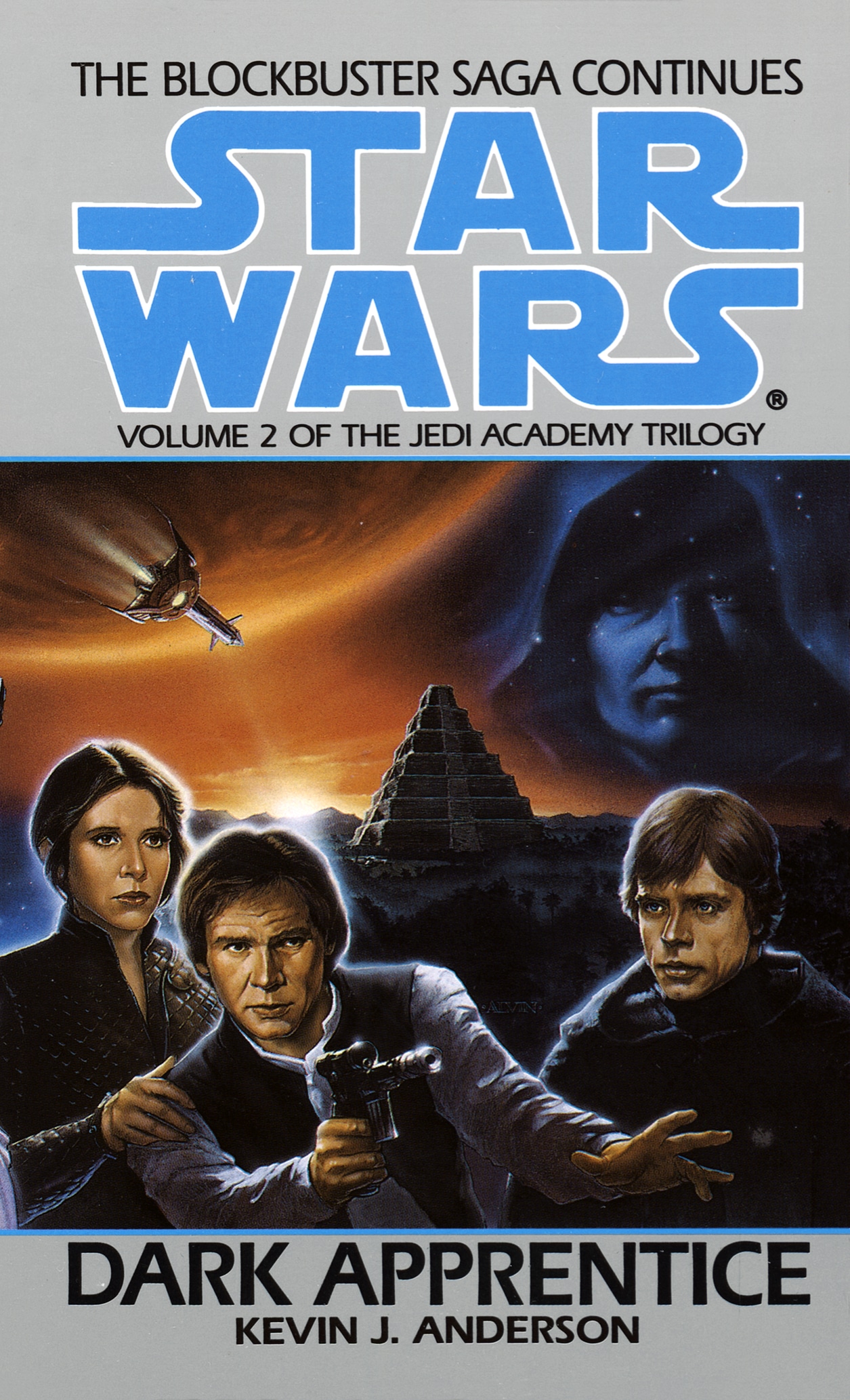 Genre: Science-fiction
Rating: 3.5/5
11 ABY
Happy 40 year anniversary to the release of Star Wars Episode IV: A New Hope, released on May 25, 1977! In honor of the anniversary, I ensure that a fresh Star Wars Post makes it onto my blog on May 25th. This post features the second novel in the Jedi Academy Trilogy: Dark Apprentice, preceded by the first in the trilogy, Jedi Search. While not quite as interesting as the events and characters in the first novel, this one still has quite a bit of merit.
The New Republic has taken the Sun Crusher, and in retaliation, Admiral Daala is wreaking havoc across New Republic worlds, including Akbar's home-world. After his ship is tampered with during a peaceful political talk with a new planet of people, Ackbar crashing into their sacred building has the New Republic remove him from his post, no longer an admiral. Now residing on his home-world, Leia and Ackbar fight against Daala's assault.
While this battle rages on Mon Calamari, Luke is on Yavin 4 training his new Jedi apprentices. Little does Luke know that a couple of his Jedi are looking to the Dark Side. Gantoris on the Eol Sha people sees visions of dark power, and when he chooses to embrace the Dark Side, it is too much, and his body gives out. Now this dark being has found its way to Kyp Durron, who claims the Sun Crusher can be used against Daala and the rest of the Empire remnants, and that Luke is not teaching his new pupils what they need to know.
Meanwhile, Leia is aiming for peaceful negotiations with various planets while trying to be a good mother at the same time, and the one who sabotaged Ackbar's ship has found Anakin Solo's whereabouts!
When Luke finds out about the destruction of the Eol Sha people, wiped out by Daala in an act of pure guerrilla warfare, Luke cannot keep up with the fading Empire remnants and his pupils turning to the Dark Side. When Luke aims to fight whatever this looming darkness is, he falls into a comatose state, leaving his apprentices to fend for themselves, and leaving Kyp to do as he pleases with the Sun Crusher as he aims to exact revenge and save his brother.
All in all, this book was still pretty decent. I was not as interesting as the set-up and character introductions in Jedi Search, it has potential to lead into a climactic finish, and it does keep the reader wanting to know what will happen with many of the characters, including Luke, Kyp, Anakin, Daala, and Mara. Yes, Mara Jade make an appearance in this novel, as Luke is aiming to get her to join his Jedi Academy, and the plays between Mara and Lando are hilarious. Overall, a decent sequel to a decent Star Wars trilogy that any fan would find interest in.