There are many, many comics in the world of Star Wars. The ones I have here vary in era, art, publication date, publisher, and style, but they are all interesting releases both to the old Expanded Universe as well as the new canon. They are listed in order based on the Battle of Yavin. Just remember, this is a highlight on a small fraction of a larger whole.
Knights of the Old Republic: Dueling Ambitions (3963 BBY)
Publisher: Dark Horse (6 Issues)
Writer: John Jackson Miller
Artist(s): Brian Ching, Bong Dazo, Dean Zachary, Michael Atiyeh, et. al.
This volume of KotOR features "Prophet Motive" parts 1 and 2, "Faithful Execution," and "Dueling Ambitions" Parts 1-3. "Prophet Motive" Gryph, Zayne, and Jarael have a long-running plan to dismantle a shady auctioning syndicate that utilizes slaves. When their plans are found out, Gryph and Jarael must disguise themselves, and their Mandalorian friend finds himself in a bind for refusing to remove his armor. In these issues, Jarael demonstrates a potential to use the Force, and Rohlan pushes her further to utilize these newfound powers. "Faithful Execution" is a short issue featuring unique art by Dean Zachary, art that makes the characters appear softer, rather than having the sharp angles. This issue involves Zayne and crew coming across a ship of suffocated people, with a lone survivor and a droid. When Zayne suspects the droid of the murders, the real murderer comes forth when Jarael is in trouble. In "Dueling Ambitions," Zayne finds himself face-to-face with one of his childhood icons in a dueling arena, excited to race and be a part of the duels, even though they can be very deadly. When the truth is revealed, that those in the duels are slaves that are forced to fight and race, Zayne makes it his ambition to free them, but he also learns Jarael's secret of the past!
Having the different artist in one of the issues was an interesting and pleasant twist, and this new arc of Zayne, Gryph, and Jarael's adventures shows promise. For the first time, I am extremely eager to see what happens next in this series, especially where Jarael is concerned.
Jedi Academy: Leviathan (12 ABY)
Publisher: Dark Horse (4 Issues)
Writer: Kevin J. Anderson
Artist(s): Dario Carrasco Jr., Mike Heike, Ray Murtaugh, et. al.
When a mining planet sends out a distress signal, Leia calls Luke to send out some of his Jedi Trainees to investigate. While Kyp and Dork 82 arrive too late, they find that the planet is inhabited by ancient monsters that seemingly collect the souls of those they devour. While the Jedi are too late, Kyp knows that he must defeat the leviathans and release the souls of the victims and rid make the planet safe for the next settlers who choose to live there.
This is a single volume following Anderson's Jedi Academy trilogy (and is preferred to have read I, Jedi and the Callista trilogy as well). It features some of the main Jedi that Luke brought to his new academy on Yavin 4 including Kyp Durron, Kirana Ti, and Streen, and introduces us to Dorks 82, who hopes to have some connection with the Force as his predecessor did. The art is good and the story adds just a bit more to the training of the new Jedi.
Doctor Aphra: Aphra (0 ABY)
Publisher: Marvel (6 Issues)
Writer: Kieron Gillen
Artist(s): Kev Walker, Marc Deering, Antonio Fabela, et. al.
Doctor Aphra is an archaeologist. After faking her death with Darth Vader, she now continues to hunt around the galaxy for rare artifacts that she can sell for a high price. Black Krrsantan still helps her out in hopes of getting what she owes him, but when her Doctorate is disabled by her father, she must comply to his wishes before she can be reinstated. Searching for hints to a lost civilization on Yavin 4 brings the Empire down on them,. but unlocks a great historical mystery.
This is one of the best installments to the new canon with a great character. Aphra is a fantastic edition to the story: her character is interestingly developed with her own unique qualities that make her stand out from other characters in the series. The art is superb, as usual, and I cannot wait for the next one!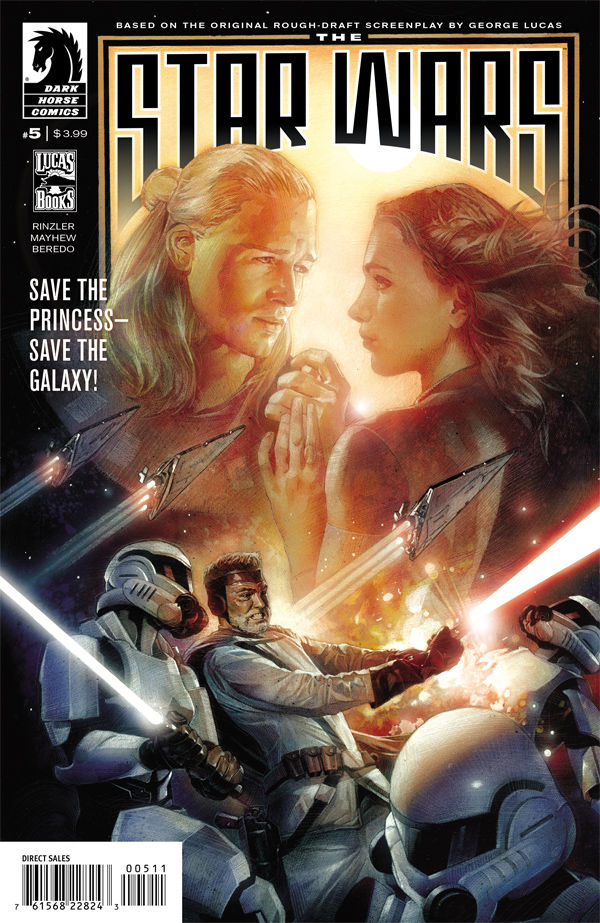 The Star Wars (No Timeline)
Publisher: Dark Horse (8 Issues)
Writer: J. W. Rinzler
Artist(s): Randy Stradley, Mike Mayhew
This is Star Wars before it was revised to become the beauty that it actually is, based on the original draft by George Lucas. The story is pretty much completely different, featuring the Jedi-Bendu who once guarded the Emperor before the rise of the Knights of Sith.  Annikin Starkiller is the hero of the story with an older Luke Skywalker as the mentor/master. Annikin and Luke must now protect the princess of Aquilae, Leia, from the Empire. In this version, Han is a Urellian, a race that hunts Wookies on their home planet of Yavin. Darth Vader exists but is off screen most of the time, commanding his Sith from afar.
Despite the original story by George Lucas being awful, they at least got some of the top artists from the Star Wars line of comics. There is some action, but the story itself is so dry compared to its multiply drafted-over counterpart. While this is an interesting piece in the creation history of Star Wars itself, it is not worth the read if you are looking for extended universe qualities about characters you are already familiar with and want to know more about.