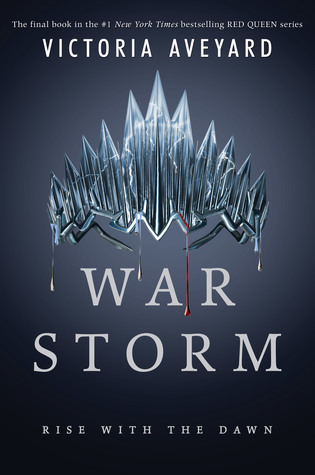 Genre: Young Adult Fantasy/Dystopian
Rating: 5/5
War Storm is the fourth and final major installment in Victoria Aveyard's best selling Red Queen series. I was lucky enough to be at her publication party at Diesel, A Bookstore in Brentwood, where well over 100 people came to celebrate the release of this book, along with Victoria Aveyard in Conversation with Marie Lu. What an amazing event.
Nearly a month and a half later, I finally finish this 657 page beast that is War Storm.
More political and war/battle-filled over anything, the politics, strategies, and battles keep this novel fast-paced and full of constant action, which is generally always a good thing. Not only do Mare, Evangeline, and Iris return as leading ladies and perspective characters, but we finally get perspective chapters for both Cal and Maven (two chapters each). This shows Aveyard's craft and ability as a writer by being able to take on these different perspectives and have these characters stand out from each other, and we can also see some of their reasons for doing things.
Some of my personal comments:
Iris is a SCARY lady
Evangeline is my favorite character (love her attitude and style)
I root for Cal
The ending is not quite what I imagined, and it is open in a way that there could be more short or side stories, or maybe even a little novella to show what some of the characters are doing in future. Overall, it is conclusive, and I feel that the ending is what it needed to be, whether it's what I was expecting, or what I wanted, or not.
We, the reader, are taken all over the country in this book, and get to see different political sides to things and how different sets of people are living with this war going on. Montfort is very interesting, and we can blatantly see many political aspects in this novel that shout at what the U.S. is experiencing in 2018, something to help young readers look at and connect themselves with current issues through the reflections in the novel they read.
I don't particularly want to give away any plot, so I leave you with this: War Storm is a fantastic read to match Red Queen. While Glass Sword and King's Cage feel a bit droll, this wraps the series up nicely. I highly recommend finishing the series, even if you have been annoyed or frustrated with previous volumes, or picking up the series for the first time, to reach this final point. I also leave you with this promotional image from the publisher. Even after finishing the book, I still can't figure out what some of these might be!
P.S. A worthwhile finale!