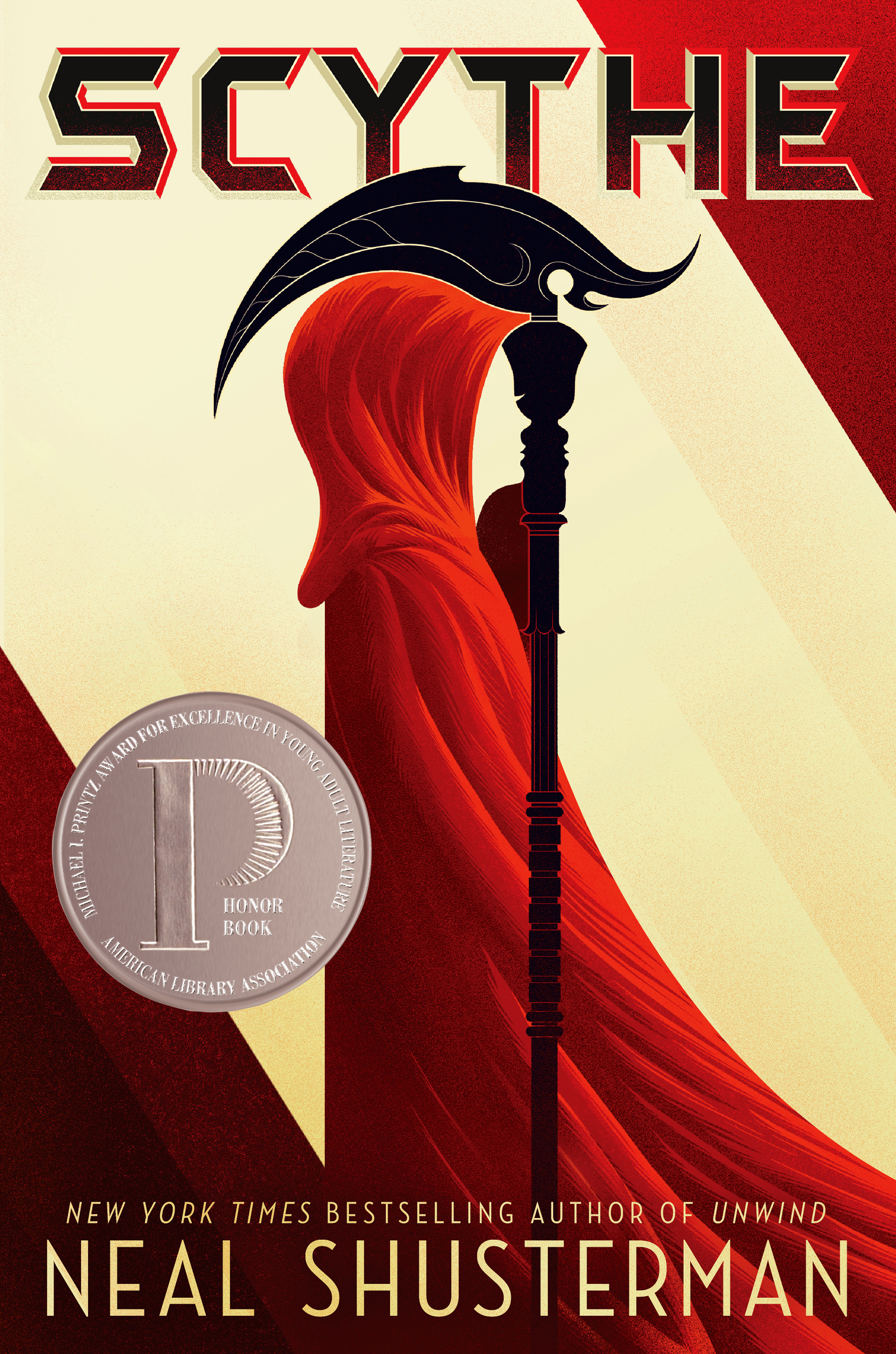 Genre: Young Adult Fiction/Almost Dystopian?
Rating: 5/5
While the world of Scythe is set in a far future society, the world is almost like one giant utopia. Almost.
Citra and Rowan have grown up in a society hundreds of years beyond the Age of Mortality. Science and medicine have come so far as to be able to revive a person from things such as jumping off buildings (known as "splatting" in this world), a knife to the heart, and even beheading! The only thing that people cannot be revived from is a flaming death–the remains are too far gone to be able to revive.
People grow up with nanites withing their bodies, little machines that can emit pain killers, balance one's fat ratio, and control one's emotions, making every human perfect in terms of peace.
In this society where people can no longer die, murder isn't even a contemplation. It just doesn't exist. But the population of humanity could reach a high point, and then the entire world would be in poverty, running out of resources. That's where the Scythedom comes in. The Scythedom is an organization that ordains people–called scythes–to select people at random to glean (their society's word for kill), for population control and peace. There are only a number of scythes per region in the world, and they are responsible for gleaning a certain number of people every year, a quota to meet to keep the population in check in a world of immortality. How a scythe selects their target, their meathods of gleaning (weapon of choice), and where are completely up to them as long as they follow the ten commandments of the Scythedom. Scythes cannot kill based on any form of bias, such as race, gender, of popularity. Their selections should be random.
Citra meets Scythe Faraday when he visits her home for dinner only to glean her next door neighbor. Rowan meets Scythe Faraday when he comes to a school to glean a student. The two show traits that would make a good scythe: schythes shouldn't want to be a scythe, shouldn't enjoy killing.
Faraday takes the two on as apprentices, but a scythe who enjoys killing and wants to change the Scythedom for the worse, claims he shouldn't have two apprentices. Now Citra and Rowan must both strive to be selected as a scythe, but only one can get the scythe ring. And their first act will be to glean the loser.
First and foremost, you should read this book! It is an utterly amazing and unique take on population control as well as future technology and what people can do with it. It also has a number of controversial issues regarding some of the ways people are killed, especially Scythe Goddard's methods which involve mass gleanings–reflecting all too well the events of society today. A book that can highlight these issues is important to bring forth discussions, especially in young people. This book is recommended for readers age 12 and up for these reasons.
One of the other things I really like about this book is that it has reading group discussion questions and activities–both of which can be applied to fit the needs of a classroom. As an educator, I see an exponential amount of promise in this book and using it in the classroom. Because of the questions and activities–which can be easily adapted for any grade level 7-12–this book can be easily made into a current events unit because of how much it reflects many of today's controversies. I also think students should have more of a variety in what they are required to read at school, rather than just the "great literary canon," because some of those ideas might not fit with a certain generation of students, although many elements can still be applied today. It's important to find something that relates to student passions, and students today follow current events now more than ever before, once again making this a viable book to bring into the classroom.