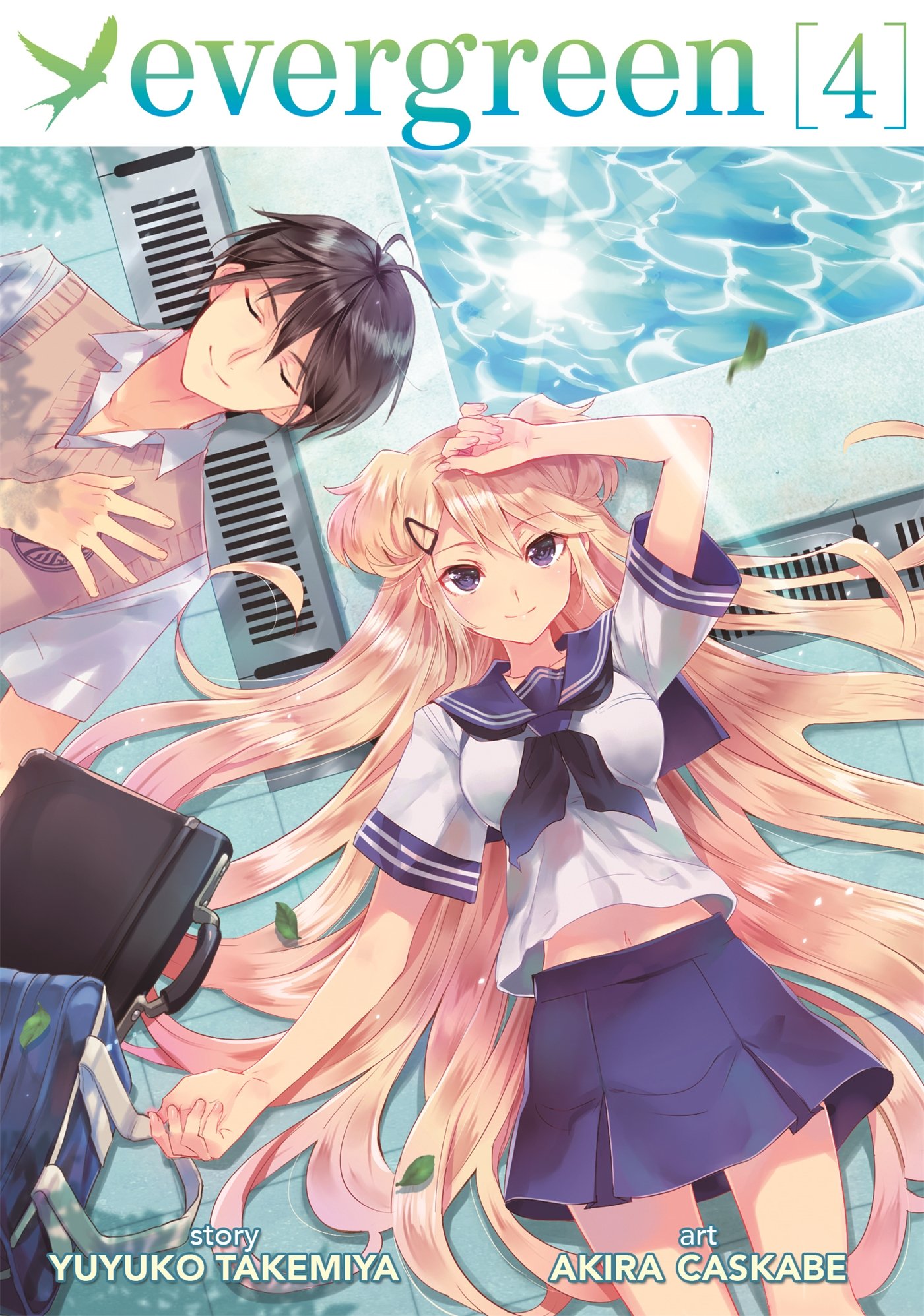 Genre: Manga/Romance/Drama
Rating: 4/5
I am beginning to like Seven Seas' North American branch more and more, as they tend to publish more mature manga and manga of a variety that you do not see as much with other NA publishers, like Viz. I first picked up Evergreen because it had attractive art, the story sounded unique (and in a sense, it is), and there are only four volumes, which makes it easy to collect, keep, and reread.
In this manga, Manga Club captain Hotaka was born with a congenital heart disease that prevents him from doing a lot of activities that other students normally do. The physical scar on his chest has left him to be somewhat insecure about his physical appearance. Everyday he admires swim-team member Awaya Niki, both beautiful and talented. His view from the club window can only do so much though.
When Hotaka has a private appointment to fulfill his PE requirements with the teacher, he swims in the pool and Niki saves him, noticing his scar in the process. Now that he is up close and personal with her, he decides to develop their friendship. Someone begins a rumor that Niki must only be acting like Hotaka's friend to get close to the class hunk (and womanizer), Soga. Eventually, Hotaka learns the truth, that Niki has been admiring his Manga Club stories for a long time, and she has been collecting every issue. Oddly enough, Hotaka's own personal story is similar to Niki's, so she feels that she can relate to him.
For some reason, Niki begins avoiding Hotaka, not wanting to communicate. Hotaka had high hopes and finds this reaction to be very strange. Perhaps they are both afraid to admit their feelings for each other.
When they do finally admit their feelings to each other and begin dating, Niki has a major revelation from her past about who Hotaka is, and it changes their relationship for the rest of their lives.
Overall this was an enjoyable read, but not something I am overly excited to recommend to random passersby. Fans of manga in general might enjoy this one, but the ending didn't settle well with me and the story was interesting, but also felt a bit wasted. I did give it a higher rating because it did have unique qualities to draw a reader in, and the art was nice. The potential of the story dropped in the last volume though. The twist was extremely interesting, but also a let-down as a reader.