Orphans Vol. 1: The Beginning by Roberto Recchioni and Emiliano Mammucari
Genre: Graphic Novel/Science-fiction
Rating: 4/5
(Recieved from NetGalley for an honest review).
First of all, the art is phenomenal! Second, this graphic novel is utterly amazing!
When the world is hit by a beam of light, the prospect of aliens becomes real. Now all the survivors are basically orphans, and these children are the best candidates to be fine-tuned into soldiers. They have nothing more to lose and some may seek revenge against the alien species that took their families from them and destroyed their planet. The aliens are mysterious lifeforms, almost spectral in they cannot bee seen on a general radar and can appear out of nowhere with no notice.
The writing (I think this is a translation from an original language–Italian?) is excellent and the story flows well. The first chapter feels a bit slow, but it's the main setup with the orphaned characters, how the world ended, where the children end up, and what they do to become soldiers. The first chapter has a great cliffhanger ending and the second and third chapters (this volume contains chapters 1-3 at about 100 pages each) are fast-paced and exciting. The image flow is done well and time shifts between past and present are executed with clarity. The last fifty pages (the book is 353 total) feature a whole trough of extras including Q+A with the author/artist, character and technology designs, and cover reveal of the next volume. The character relationships and development are also strong, and I predict they will become even stronger as the story progresses. This is an excellent read for those who love graphic novels and sci-fi with aliens! I can't wait to read the next one!
Mary Who Wrote Frankenstein by Linda Bailey and Julia Sarda
Genre: Children's Fiction/Literary Reference/Biography
Rating: 5/5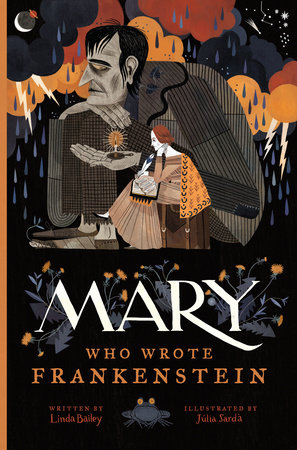 (Recieved from NetGalley for an honest review).
This book is written in a narrative format sowing some key events of Mary Shelley's life as a child and some of her inspirations in becoming a writer and prominent female figure of her time. I really like the references to other literary thinkers/works that Mary would have interacted with, such as her own mother (Mary Wollstonecraft) and Samuel Taylor Coleridge. It shows some of the struggle for a young girl to be such a bright thinker during the time period, although not necessarily unheard of. The facts from Mary Shelley's life are illustrated with unique images on every page as well as prose that makes this book feel more fictional, even though it's definitely a biography.
My specialty of study is the British Romantic period, and some personal favorite writers of mine are Coleridge (I loved the illustration with the "Rhyme" reference), Mary Shelley, and Percy Shelley. Frankenstein is one of my favorite novels, and I thought this book was so pleasantly put together that I think it would definitely be a fun introduction to a Frankenstein or British Literature unit in high school, regardless of grade level. Seniors love the chance to have a picture book read to them in class, and this book give excellent context about the time period and the writer herself, making it the perfect unit intro. There's also a really nice author's note at the end that talks about the origin of the information, true information first told by Mary Shelley herself to answer questions about the writing process and how it affected her as a young woman.
Whether you are using this book as a classroom tool or reading it for fun, anyone of any age can find enjoyment in it!
My Real Name is Hanna by Tara Lynn Masih
Genre: Young Adult Historical Fiction
Rating: 4/5
(Thank you to NetGalley, Mandel Vilar Press and Tara Lynn Masih for the opportunity to read this book for an honest review.)
Hanna is a fourteen-year-old Jewish girl living during the time of Hitler's genocide of Jews. This story is told from her perspective over the couple of years that her family must flee and hide to try and survive the invasion and persecution of any Jewish people. Having to leave home with just the clothes on her back, Hanna and her family leave everything they know behind in exchange for their lives. At one point, the only safety left is to live in a cave. For nearly a year Hanna and her family live in the darkness of a cave, feeding off what little they have and avoiding the light of day so that soldiers won't come shoot them.
This was a very intriguing read that definitely shows the amount of research effort put into the making of this novel. It highlights a crucial time in our world's history and the fact that so few survives that major event. This novel is meant for younger readers, and I highly recommend it during a Holocaust unit alongside books like Night or The Book Thief, because this book shows the perspective that we don't see in a lot of other books on this topic, which makes it unique. One of the only things that I want a bit more of are defining Polish (or other foreign) words more than once–maybe two or three times–to help that word stick with the reader, especially if it is being used so often. I also think more about the country Hanna is in and some of the history about the area and the time itself, as background or maybe reflection by Hanna, would also develop an understanding for a younger reader who might not know as much about or be as familiar with the time period. Overall, I find this book to be very realistic, showing an aspect of the Holocaust that we just don't see in other books of the same topic. A recommended read not only for teens, but adults too. I learned more from this book about the history, and it took a turn I wasn't really expecting, making the experience of the read thrilling and engaging.
Dragons in a Bag by Zetta Elliott
Genre: Children's Urban Fantasy
Rating: 4/5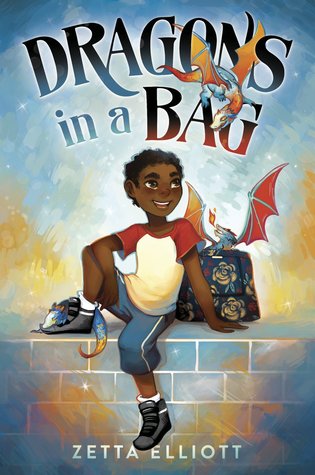 (I would like to thank NetGalley, Random House Children's, and Zetta Elliot for the opportunity to read this book in exchange for an honest review).
A cute children's urban fantasy novel about a boy named Jax who has to stay with Ma when his Mama needs to go to court for the day to try to keep their home. He learns that Ma isn't exactly related to him (she's not his grandma), but she has taken care of many children in the past, including his own mother. There's something strange and…magical…about Ma. When Jax finds out that she is a witch, he seems to take the information in stride, and more and more strange magical things begin to happen around him, including the appearance of magical creatures, such as dragons.
This is a very fun and quick read. One of the only qualms I have about it is that I wish the dragons were physically discovered sooner and that more was done with the dragons, because that is one of the appeals that drew me into the book. Anything with dragons, and I'll read it in a heartbeat! That aside, I really liked how this book features an intelligent young boy and the reader is given little mini history and geography lessons throughout the book as explained by various characters for different purposes. When the dragons do finally make their appearance, they are pretty cute and somewhat unique in themselves as well, which I liked. I do want to know more, for sure, and the book leaves a few open plot lines for a definite sequel. After you read the story, it will be pretty obvious what Jax's next adventure is going to be. One of the other nice touches about this book was that there was at least one illustration with every chapter, something that books seem to disregard as they become geared for older readers. There's no such thing as too old to add images to a book! Overall, I really enjoyed this book and, while it is more of a children's book, I wouldn't mind having this book on my classroom shelf for middle school students to access, or even some of my high school students who might struggle with reading or be at a lower reading level. This book would be very fun for those students, and anyone who wants a quick, easy, and exciting read…with dragons, of course!
Wings of Ice (Protected by Dragons #1) by G. Bailey
Genre: Reverse Harem Fantasy (18+)
Rating: 4/5
Thanks to NetGalley and G. Bailey for the opportunity to read this book for free in exchange for an honest review…and I am pretty sure G. Bailey just got a new avid fan and follower!
Isola Dragice is heir to the throne of ice and fire, not to mention one of the last ice dragons. Fire dragons and their fire rebellion aim to assassinate her and bring fire to the throne over centuries of an ice ruler. On Earth, it was assumed that she might be safe from all that, but the murder of her mate brings her back to Dragca where she has four fire dragons protecting her…and falling for her! But a curse on the ice throne prevents Isola from being able to love her dragon guard!
Overall, I really enjoyed this novel and am definitely going to be reading the next one. The grammar bothered me in many instances, but the story was so fun, fast-paced, and exciting that those mechanical things were easily looked over after the first couple of chapters. The reverse harem (one girl in the interest of three or more guys) is interesting for female readers who are into love triangles…or squares…pentagon? The main male characters appeal to different interests that a woman might have (the nice guy, the bad boy, etc.) which is fun and give the reader an easy favorite depending on their preference. Advised for readers 18+. There are many sexual innuendos and references, although sex itself was not present in this novel, which was disappointing, but it's also the first book. I am hoping, being recommended 18+, that things will become more adult in material as the series progresses. This is the first time I have read something of G. Bailey's and I am definitely interested in not only the rest of this series, but after some research, some of the author's other series' as well, which definitely have an appeal for my age and gender.