There are many, many comics in the world of Star Wars. The ones I have here vary in era, art, publication date, publisher, and style, but they are all interesting releases both to the old Expanded Universe as well as the new canon. They are listed in order based on the Battle of Yavin. Just remember, this is a highlight on a small fraction of a larger whole.
Knights of the Old Republic: Destroyer (3963 BBY)
Publisher: Dark Horse (5 Issues)
Writer: John Jackson Miller
Artist(s): Brian Ching, Bong Dazo, Ron Chan, et. al.
This is the eighth volume of the KotOR series of graphic novels. It contains "Masks," "The Reaping" parts 1 and 2, and "Destroyer" parts 1 and 2. "Masks" is short and revolves around Malak, one of the Jedi Zayne and Jarael previously met in their adventures. Now he is recruiting for the war against the Mandalorians, but Zayne won't go and he will not allow Jarael to go either. They end up discussing her past of being a Slaver and how it affects her in the present. "The Reaping" had Zayne and Jarael searching for the Crucible, a slaver group that Jarael was once a part of, if nothing more than to bring the group down from the inside. When Zayne brings eighty slaves abourd, his hidden motives are revealed to Gryph, and Jarael reveals who she once was to the rest of the group. "Destroyer" features Zayne being purposely taken in the the Crucible group so that he can get an inside glimpse. When one of Jarael's enemies manipulates him with the Force, Zayne questions Jarael's character and why she still have the name meaning "Destroyer," but Jarael tells him the name has a different meaning: "Protector." With Zayne and Jarael looking to go their separate ways, what will become of the Crucible?
The art is a bit different in this one (different artists do different issues of the comic). The story is interesting in that we get more on the mysterious Jarael, and leads the reader into wanting to find out more and to see what will be come of Jarael…and Zayne.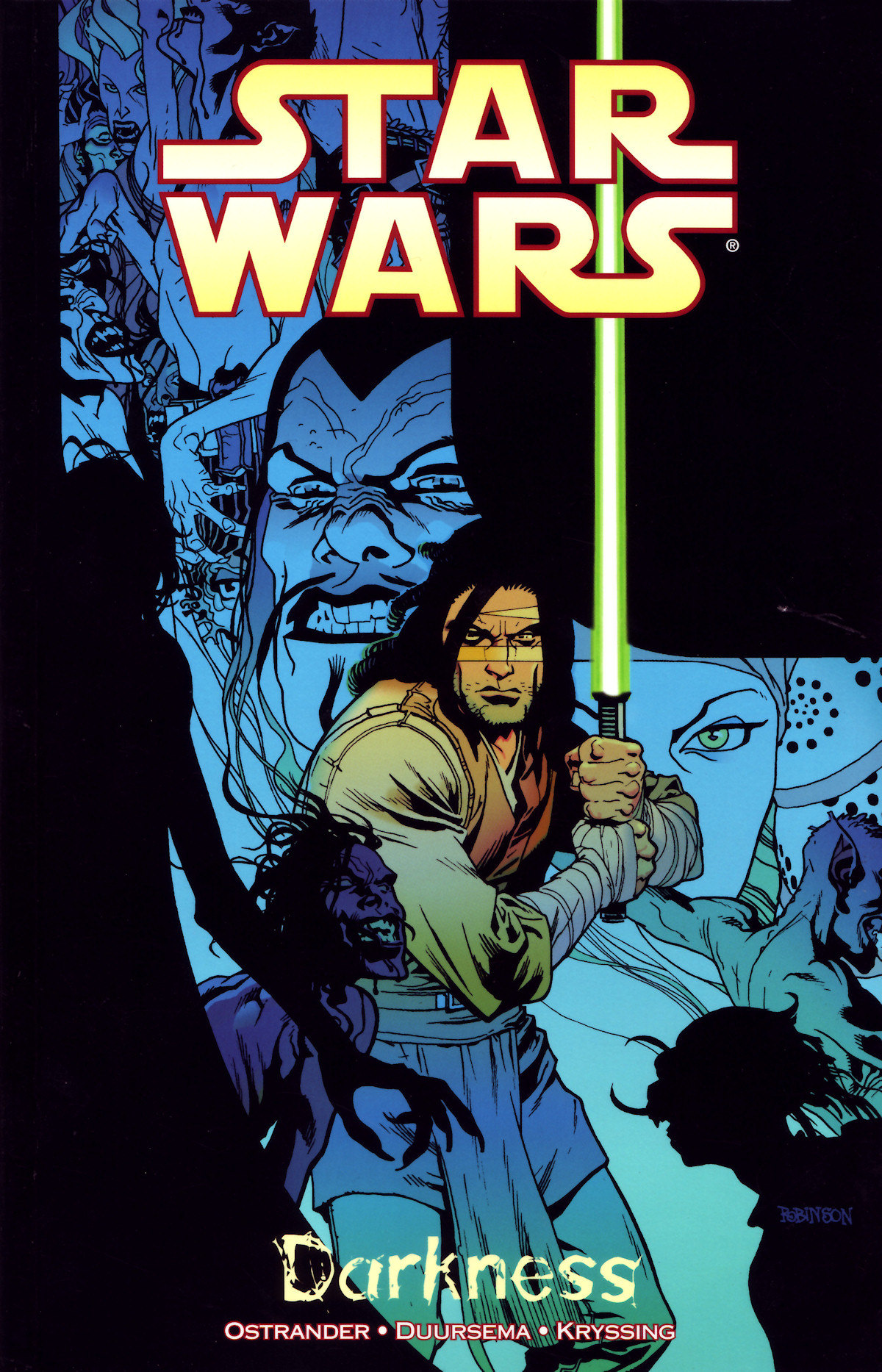 Star Wars: Darkness (30 BBY)
Publisher: Dark Horse (4 Issues)
Writer: John Ostrander
Artist(s): Jan Duursema, Ray Kryssung, et. al.
This graphic novel consists of issues 32-35 of Star Wars. It features Quinlan Vos and his padawan Aayla Secura after having lost their memories. Quinlan had to be retrained, and when a Guardian from his home planet seeks only him for a mission, the Jedi council is wary, since Quinlan has touched the Dark side and is still very close to darkness. Meanwhile, Aayla hates Quinlan for what he has done in the past, but all Quinlan wants is to find his lost padawan and restore her. When Anzati wreak havoc, and show Quinlan some disturbing memories, he must fight his greatest fear once more, and save his padawan from the darkness!
I was very excited to come across this at a comic book store. I always check the Star Wars selections from the original Dark Horse publications, and I had actually never seen this one before. With the same writer and artists as the Clone Wars, this was a great edition to Quinlan Vos's character, adding even more detail to an already phenomenally interesting Jedi.
Star Wars: Yoda's Secret War (0 ABY, Flashback to before the Clone Wars)
Publisher: Marvel (6 Issues)
Writer: Jason Aaron, Kelly Thompson
Artist(s): Salvador Larroca, Emilio Laiso, et. al.
This is the fifth compiled volume of the Marvel Star Wars series of comics which contains issues 26-30 as well as Annual #2. "Yoda's Secret War" begins in the present time of the series with C-3PO having been captured by a special squad of stormtroopers and Luke following R2, who refuses to leave his droid friend behind. In his travels, Luke reads from Obi-Wan's journal and learns of a mission Yoda once went on to save a planet. Luke feels drawn to the same planet and sees the remains from what Yoda left many years earlier. It is a Force-heavy planet with great stone giants that are like mountains, and the people of the planet fighting each other over Force and terrain. "Annual #2" features a bystander, a female engineer, who ends of helping Leia from a tight spot, despite her not really liking Leia.
Overall, the art is splendid in this compilation, but the story is lacking. The "Annual #2" was an interesting addition to Leia's adventures, but the arc with Yoda was boring and seemed like a tangent in comparison to the new Marvel Star Wars as a story, which was disappointing. I am hoping the next installment will continue with the main story, rather than a past event that was very lackluster.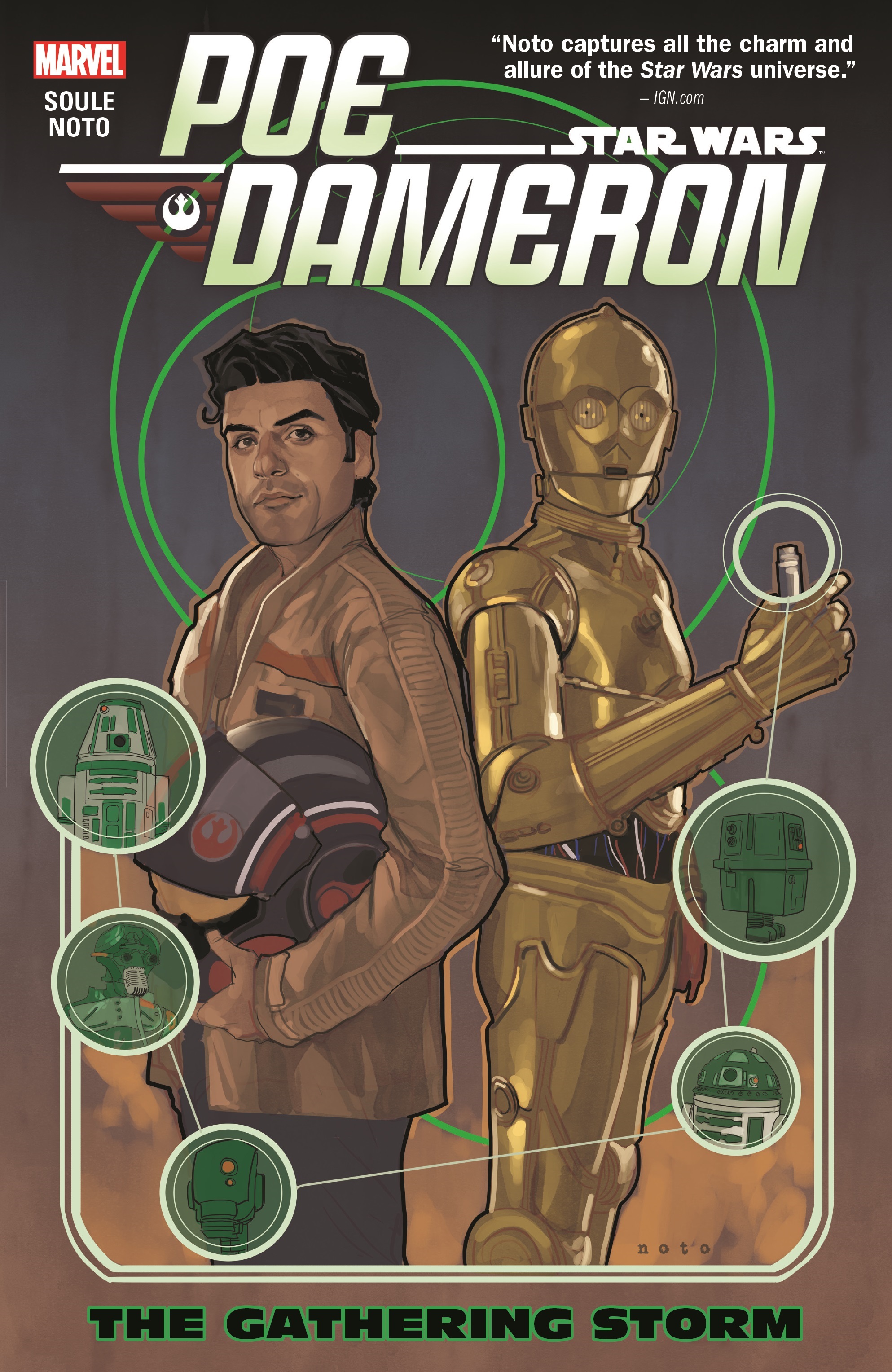 Poe Dameron Volume 2: The Gathering Storm (30-34 ABY)
Publisher: Marvel (6 Issues)
Writer: Charles Soule
Artist(s): Phil Noto, Joe Caramagna
The second installment in the Poe Dameron graphic novel series features Poe continuing his work for Leia and the Alliance, but knowing that there is a potential spy among his Black Squadron is almost too much to bear. When See-Threepio seeks Poe's help, he finds himself bringing back a droid that may or may not have vital information on Snoke and the First Order, while being followed and tracked by ex-stormtrooper Terex. Terex has his own plans in mind when he aims to bring the entire Alliance to the First Order!
While I enjoyed the first graphic novel, this one seemed to be lacking; but it wasn't! It was even more interesting than the first volume, with higher stakes for Poe and his Black Squadron! Phil Noto does not disappoint. As he is both the cover artist and issue artist, you can easily judge this book by the cover, because the art is phenomenal, and Marvel knows what it is doing when contracting for the new canon comics!