There are many, many comics in the world of Star Wars. The ones I have here vary in era, art, publication date, publisher, and style, but they are all interesting releases both to the old Expanded Universe as well as the new canon. They are listed in order based on the Battle of Yavin. Just remember, this is a highlight on a small fraction of a larger whole.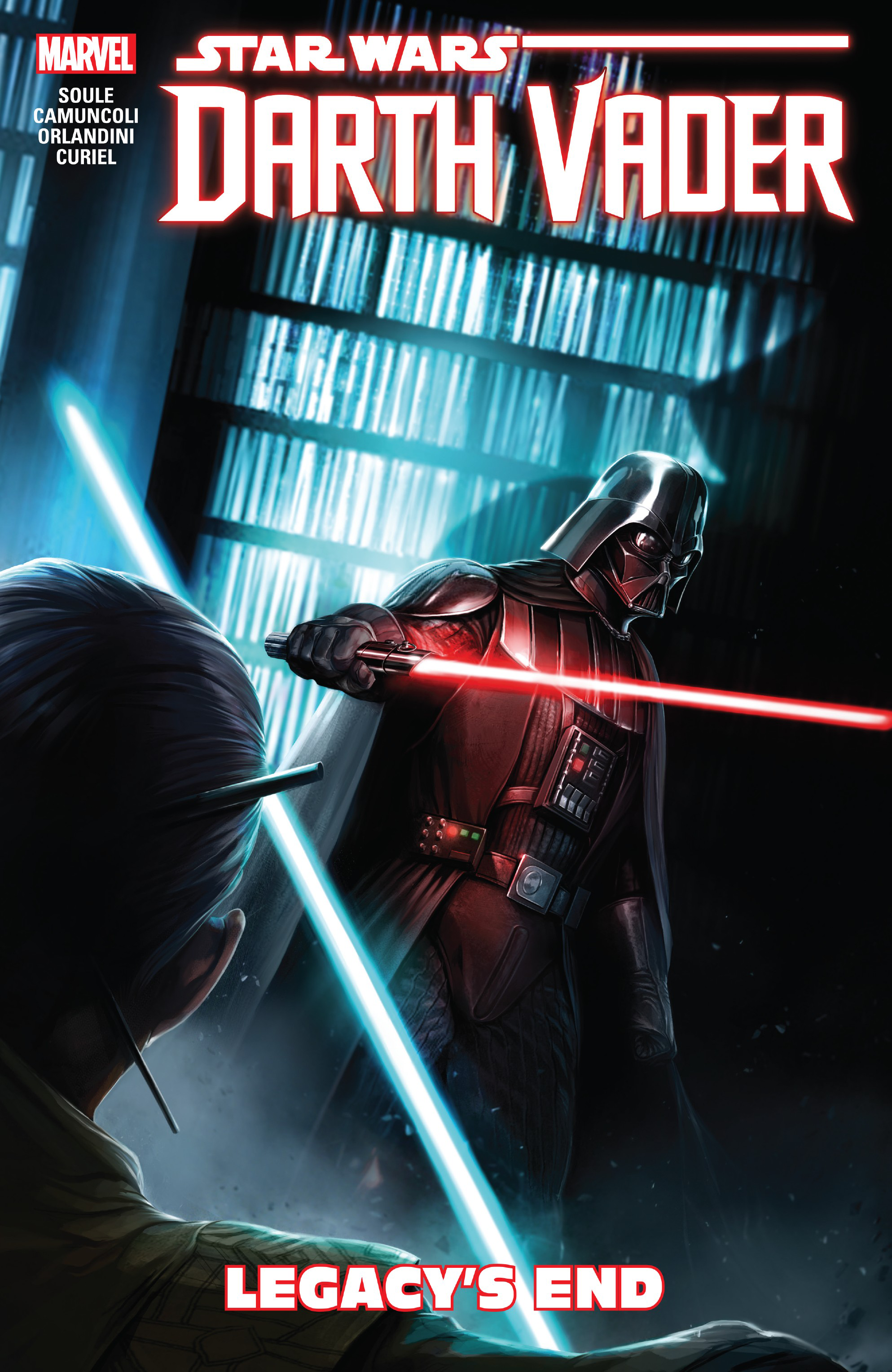 Darth Vader Dark Lord of the Sith: Legacy's End (19 BBY)
Publisher: Marvel (6 Issues)
Writer: Charles Soule
Artist(s): Giuseppe Camuncoli, Daniele Orlandini, David Curiel, et. al.
Legacy's End picks up right where Imperial Machine left off. The Inquisitor is having a bit of an issue with the way Vader chooses to teach their pupils, considering Vader teaches them loss through limb removal. On top of this, an elderly female Jedi, Jocasta Nu, has been reported as surviving Order 66, and she is a threat to Sidious because she has knowledge great enough to rebuild the Jedi Order. When Vader hunts her down, he finds that Nu had a data chip with knowledge of Force-sensitive children that she was perhaps going to seek out. Oddly enough, when Sidious asks Vader if Nu had any knowledge they could use, Vader crushes the data chip and denies knowing anything. Vader then has a bounty put on his head by an unknown source, and many do not know just what the Sith Lord is capable of. When it seems that the order comes from Sidious, it would appear that someone is trying to set the union of Sith apart from each other.
I really love the art–it's vivid and detailed as well as smooth. I personally really enjoy this series because it is fun to get a glimpse of Vader's training with Sidious and some of the missions he does to become stronger. It is a nice back story that falls in the gap between Revenge of the Sith and A New Hope.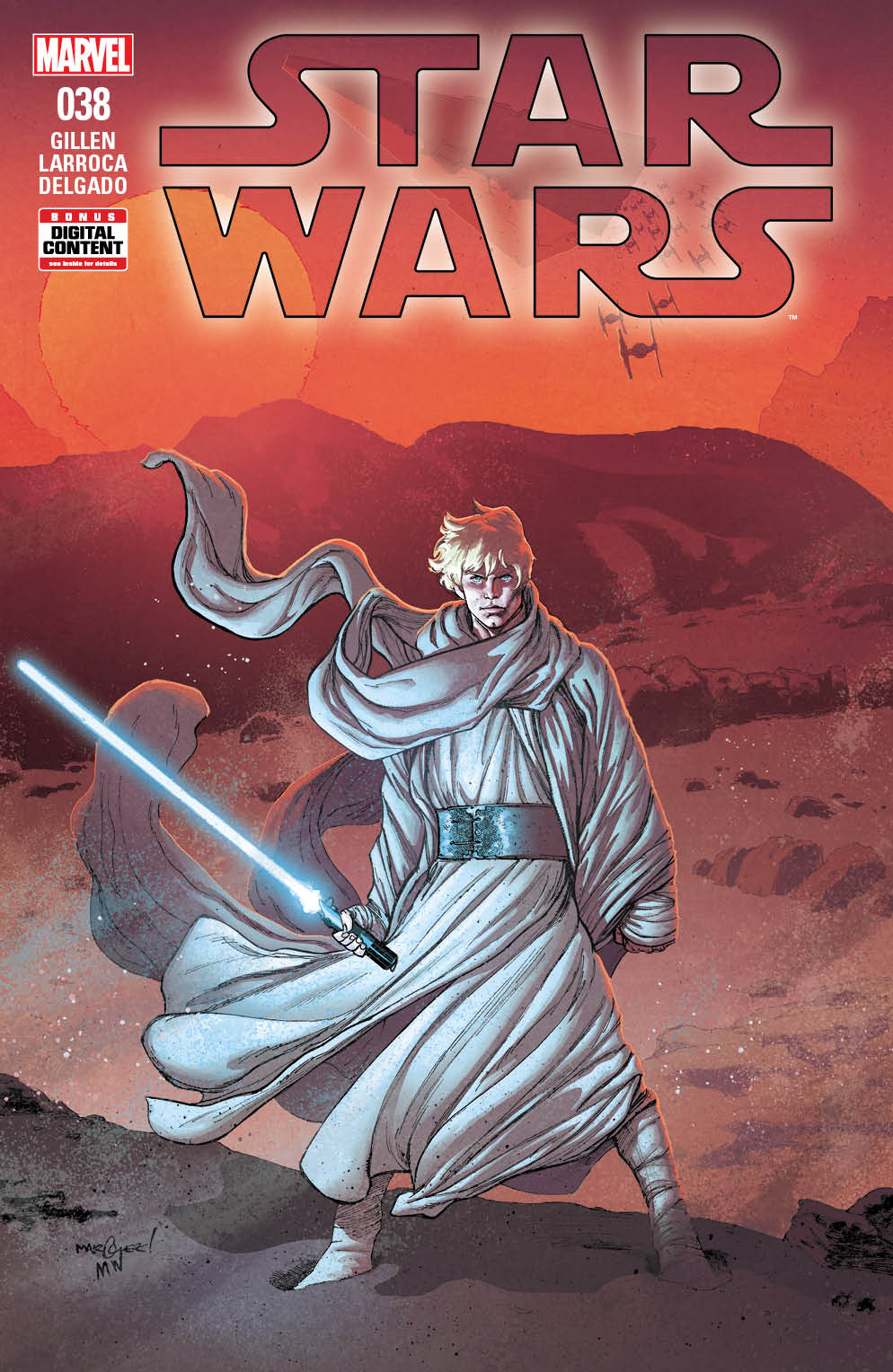 Star Wars Vol. 7: The Ashes of Jedha (0 ABY)
Publisher: Marvel (6 Issues)
Writer: Kieron Gillen
Artist(s): Salvador Larroca, GURU-eFX, et. al.
This 7th volume of the new line of Star Wars comics contains issues 38-43, or "The Ashes of Jedha" Parts 1-6. In this story arc, the Empire returns to Jedha aiming to collect any more kyber crystals that may have survived the test run of the Death Star blast. The Rebel Alliance aims to prevent any more harvesting of the crystal, but when Trios appears, a character you might remember from the Su-Torun War, she knows what mining is about. With her hidden agenda, she takes both sides unbeknownst to each, because ultimately she needs to protect her own people. When Luke and Leia see that some people still live on Jedha, they want to help, but some cannot leave the only place they know as home, despite there being little to no trade on the blasted moon.
Aside from the beautiful art, as usual, there was a aspect of this particular arc that I greatly enjoyed. We see references to Rogue One as Luke questions the lives of those who stole the Death Star plans to save the galaxy. He thinks of their once-trek to Jedha, as well as the live lost with a huge chunk of the moon. I was surprised that the moon was still partially intact and able to orbit and contain habitable life still, but that was also part of the appeal. We also get a bit of insight to those who once followed or still follow Saw Gererra's ways. A very subtle, but nice way to connect the main story to Rogue One.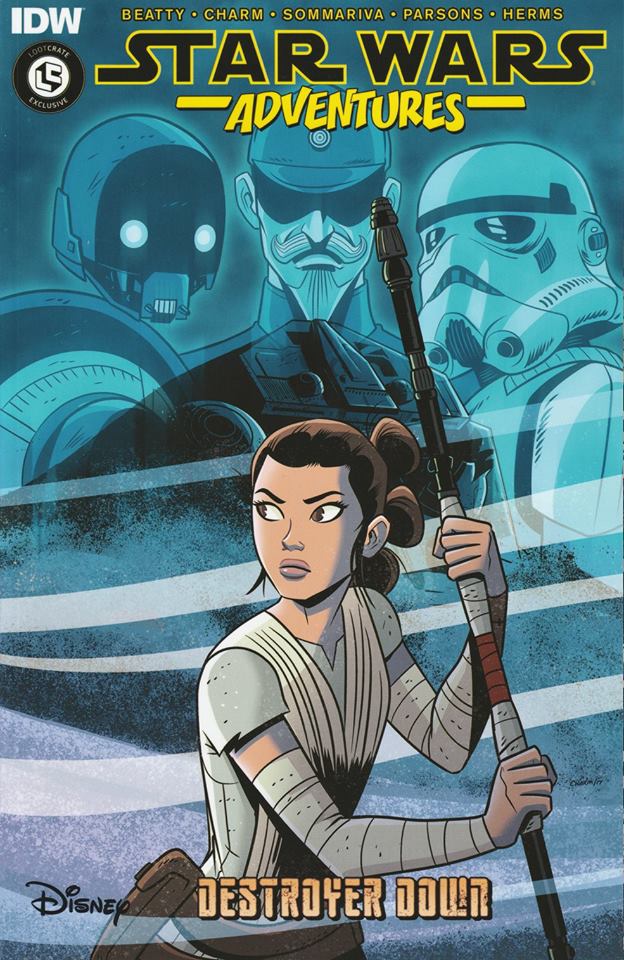 Star Wars Adventures: Destroyer Down (Pre-The Force Awakens)
Publisher: IDW (1 Issue as TPB, 60 pages)
Writer: Scott Beatty
Artist(s): Derek Charm, Sean Parsons, Matt Herms
Long after the Battle of Jakku, a long-lost Star Destroyer appears out of the sand after being buried for years. Rey, scavenger that she is and a born survivor, aims to claim the best prizes from the ghost ship before someone else does, but she's definitely the only one with an eye on the prize. It is a race to get the best items from the ship. An old droid makes its presence known and its logs reveal the one responsible for bringing the destroyer down on Jakku. But another active Imperial droid, among other scavengers, test Rey to the limits of her scavenging and survival skills.
This was a neat find because it is a December 2017 Loot Crate exclusive comic. While I am not a huge fan of the new Star Wars Adventures comics, they still add a bit of fun to various character's stories. It was interesting to see Rey go on a scavenging adventure and really seeing what she had to do to survive on Jakku before finding the Falcon. The art isn't my favorite, and it definitely feels geared more toward younger readers, but it's still relatively fun to read and own for any Star Wars fan.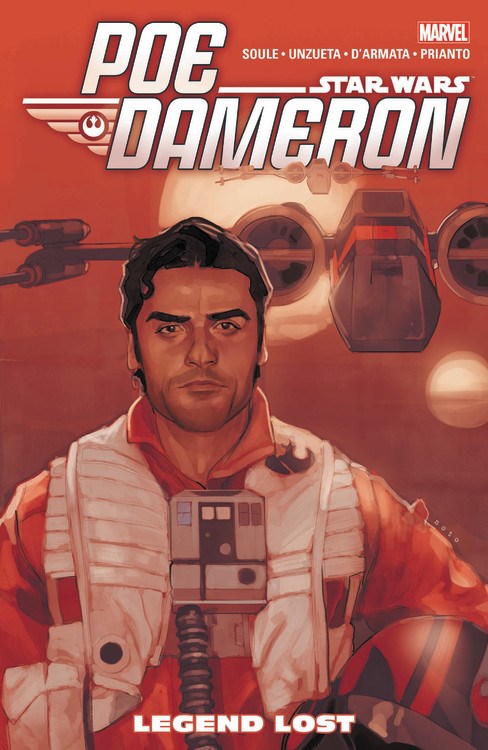 Poe Dameron Volume 3: Legend Lost (30-34 ABY)
Publisher: Marvel (7 Issues)
Writer: Charles Soule
Artist(s): Angel Unzueta, Frank D'armata, Arif Prianto, et. al.
This third volume of the Poe Dameron collection consists of issues 7 and 14-19. #7 has more of a side story feel to it where Poe is on leave and meets up with an old friend who happens to be a journalist. Of course, being a journalist, she is always fishing for information and a big story, whether the First order or the Resistance is the source. When a sneaky journalism mission ends up showing the darker side of news media, the Resistance gains a new member. While this issue doesn't really fit with the earlier volumes, it works in this volume since Suralinda Javos becomes a highlighted secondary character in the forthcoming issues. Issues 14-19 deal with Poe and Black Squadrons quest to find Oddy Muva, a once member of Black Squadron who betrayed his men to keep his wife safe. Now Black Squadron aims to find him before the First Order does. Meanwhile, Terex has been taken by Phasma who implants a mind control device on his head to have him obey any orders and skiff through any information he has learned that he can share about the Resistance to the First Order. While half of Black Squadron aims to find Oddy, the other half, taking Suralinda the journalist along, aim to get footage on how the First Order treats the beings of new planets they aim to conquer. With such footage, the Resistance can spark a new hope (eyyy) in the citizens of the galaxy.
Once again, beautiful art, as always. I felt that the story was crafted even better than the first two volumes. The story was more centered on the needs of the Resistance, through the eyes of Poe and Black Squadron of course, which was an interesting diversion from the first two story arcs. We get to know a bit more about the individuals of Black Squadron, adding more depth to the characters, as well as being introduced to Suralinda, a prospective potential secondary character of some import in the future. Overall, an excellent edition to the Poe Dameron comics.